Dog Behaviourist in Brighton & Hove - Residential Behavioral Training
Residential Behavioural Training
I've been qualified as a behaviourist for over 7 years and during this time, have trained on a 1-2-1 basis, many different breeds with many different problems. And whilst I have been extremely successful at sorting a lot of problems out, I've long held the idea that some dogs would benefit from a residential training programme, whether it be a puppy that needs to learn from scratch, saving you the owner, the amount of effort this takes, or a troubled dog that has been rescued and need some-one with the time and experience to help them to be the happiest, contented and well behaved dog you wish for.
So after studying this concept, alongside working with up to 20 dogs a day. I now feel ready and more than able to provide this life changing training. This will include intensive 1-2-1 training, as well as socialising and being taught how to behave within a pack. As part of this training I will be teaching your dog to be countryside savvy, and to be calm around horses, cows and sheep - I am very lucky that New Barn Farm Livery, where I keep my beloved horse, and is a fantastic livery yard, owned and run by Anthony and Juliette Ulridge, have kindly given me permission to use their land.
I use a reward based system, never ever using any form of physical punishment. I only use my voice and body language to express disapproval but no shouting, as this upsets and confuses dogs. I find that a calm measured approach is what gets the best results.
I will at the end of the 3 week period then come to you and spend as long as it takes to show you how to interact with your dog and all that I have taught them. I know other people offer a residential training program but some do not then teach the owners what they need to get the best from the process, which to me seems a waste of time and money for you, the owner.
After this I am always available either by telephone or email to answer any queries you may have and I will, at my usual training rate, be happy to do any further top up training if required.
For residential training I will pick up as far as Crawley to Eastbourne.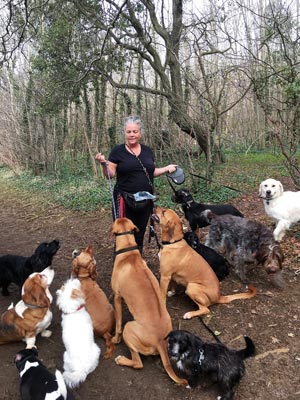 From the moment we called Anita we knew we were in good hands. Anita listened to us, asked lots of questions and within a few days came over to assess us and our dog, Jimi. Jimi was our first dog ever and we finally had to admit we hadn't got the training spot on and with a baby on the way we felt it was important we got it sorted. Anita made us feel comfortable around her and we trusted her straight away with not only our dog but with us. She was very understanding and made us feel assured she could help. And boy did she!! Jimi went away for the three week course where he learnt how to be around other animals, toilet trained and recalls. Whilst he was away Anita would keep us updated on her Facebook and send us videos of how he was getting on and we could definitely see his progress!! Anita went the extra mile when Jimi was staying with her by taking him to his groomers appointment, buying extra food for him because she truly looks after the dogs that are in her care. Once he came home Anita made sure she taught us what he had learn so we would keep it up, she took us to the park and we practiced a few training techniques. She was always at the end of the phone if we had any questions. Jimi has been back for a week now and the difference is amazing, I couldn't recommend her enough. Not only did we find a fantastic trainer but we've also found now a trusted guardian for our dog when we are away. Thank you Anita!